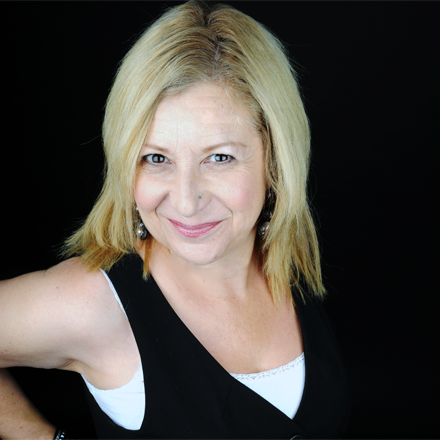 Teri Danz
Title:
Recording Artist/Vocal Coach
Company:
YouWorld Entertainment & Music
Job Description:
Teri Danz is a club hit recording artist, premier Los Angeles vocal coach and vocal producer. She combines her love and passion for singing with a desire to give others the tools and techniques they need to sing (and
speak)with ease, confidence and mastery. Her diverse, professional experience, including years of performing and recording, gives her a unique real world perspective in which to assist others in pursuing their creative path and taking it to the next level and beyond.
As a vocal coach, she specializes in pop vocal technique, performance coaching and vocal producing; with a focus on vocal resonance and technique, range, and presentation. As a mentor, she knows what it takes to be a professional and manage the creative and industry side of the music business. In addition, Danz has extensive studio recording experience both as a singer and coach, and has a Bachelor's degree in Speech Communications/Pathology and a Master's in Education from the State University of New York at Buffalo.
Over the years, her clients/students include: artists (signed and indie), musicians, speakers, television personalities, actors, and comedians – notably Jared Lee (Chrysalis), Melissa Disney (voice of Disney's Snow White and voiceover artist), Adam Bones (Merrifield Records), and many others. A published writer and author, her book "Vocal Essentials For The Pop Singer:Take Your Singing from Good to Great", published by Hal Leonard Corporation and released in 2011, is the go-to primer for singers. Her published articles have appeared in Electronic Musician, Music Connection Magazine, EQ Magazine, LA.com, Roland and Boss Users Group Magazines, Guitar Player, and many more.
Years in the record business:
22
Career Achievements:
Background: Danz started singing and performing professionally in San Francisco, where, in 1991, she had the club hit, "Didn't Mean To Fall In Love" on Twilight Records. A classically trained musician, Danz studied with renowned vocal coach Raz Kennedy (of Bobby McFerrin's VOICESTRA, and coach to Adam Duritz of Counting Crows) and many others. Her credits include a 12″ dance/club hit; rock/pop songs in Indie films; Tower records in-stores; recordings with: Buddy Halligan (Barry White, Ray Charles, Anita Baker), legendary rapper, Father MC, and Gerry "The Gov" Brown (Alicia Keyes, Tina Turner); and many others. She received a nomination for Best Female Vocalist of the Year, All Access Music Awards 2005. Danz & TDB guitarist, Tim Weber, played the Mackie Booth at NAMM 2007 and the Sennheiser Booth in 2005. She received national press in Women Who Rock Magazine. Her act has PRO Endorsements by Sennheiser.
In addition, Danz publishes The Singer's Newsletter; a vocal tip monthly email publication, geared towards vocalists, performers, musicians, speakers, presenters, and those who work closely with them. It features articles, guest tips from artists and industry, vocal health tips, performance opportunities, resources and recommendations for products and services, and updates on student successes and projects. Corporate sponsors include: Sennheiser and Casio.
Professional Goals:
My personal commitment is to push my limits as an artist, express my heart and mentor others, giving back what I have lived and learned through this journey.
Motto:
Singing Lights Up The World!
Contact information:
Teri Danz
310-283-9688
teri@teridanz.com
www.teridanz.com
Los Angeles, CA